Small Business IT Support
Let a landmark help guide your way to IT success.
We provide Computer Network support and IT management services for Small Businesses across Greater Los Angeles. When you work with us, you'll work with people who understand small business IT. Once you sign up with Landmark, you and your staff will have access to our premiere Desktop Support, Email Security, Network Management, Windows Server, and Backup Technology Experts.
"It's very easy to get lost in your IT infrastructure. Is your business IT budget going up and yet your computer network still slowing you down? Small business prosperity takes a hit when your IT isn't heading in the right direction. Find your way back with landmark."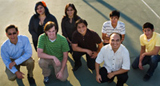 Ready for a new IT option? SWITCH makes the transition easy! Let us show you how we can improve your IT service while offering more value for your money.


"The staff at LMIT is not only very knowledgeable and skilled, but also super-nice and customer oriented. No m ..."
[more]
Trixi Miles - The Promotional Edge
"Thank you Landmark for simplifying our work lives and decreasing our monthly IT bill! We are happy to be work ..."
[more]
Dova Levin, Administrative Director - World Molecular Imaging Society


Intuit QuickBooks Remote Access: No Effe...
The cancellation of the Intuit QB Remote Access service has no effect on your remote access! This is a service that Intuit offers that allows a QB user to access their ...
[More]